Yet another PS2-to-Wii title is coming to Wii. Okami is coming to the Wii, and it looks like it will be one of the better Wii ports. While there may not be many extras (none announced), Wii owners were hoping for, this game has been dramatically improved.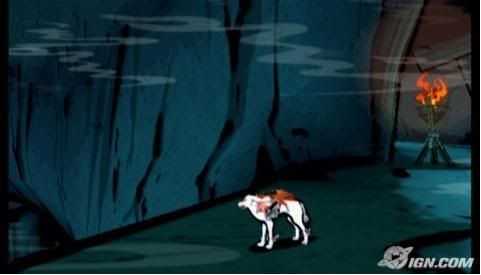 No worries, the game still keeps it's beautiful style, and my does it look better than ever. The rumors are false, it is in 16:9 and 480p display, and has a dramatic improvement in the game. This isn't the biggest improvement in the game, the controls have been improved dramatically! Moving Amaterasu feels very good with the Nunchuck, and the biggest improvement is the brush mechanics. Take PS2's take on brushing, and add funner, faster, more innovative, and overall better. You waggle the Wii Remote for the attacks, and in order to chain them together you waggle the Wii Remote left and right. This is actually made harder with the Wii, as it is easier to push the button, but certainly not funner. You simply will not be able to figure out how you could stand the PS2 controls after playing the Wii version. The controls are as follows:
Move Amaterasu- Nunchuck Analog Stick
Bit, Dig, Bark- Z/C
Jump- A [press twice for double-jump]
Change Camera View- 1/2
Skip Scene- +
Dart Forward/Attack Enemies- Waggle Wii Remote [you can chain
together attack by waggling left and right]
Using the Brush- Press B, brush comes up, hold A and paint.
Dodge- Flick Nunchuck the way you want to dodge.
Finally, the box art has been announced for the Wii version:
If you failed to pick up Okami for the PS2, make sure to pick up Okami Wii coming on March 25, 2008 here in the US, retailing at $40.